The fig8 cord organizer comes mounted on a cardboard hanging display package.
Instructions are on the rear face.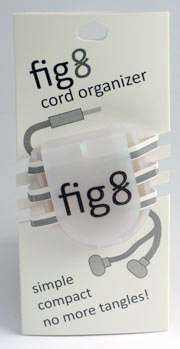 The organizer is primarily available through OEM partners. However, a small quantity are available directly on this site- US and Canadian customers only*
Shipping in the U.S. is a flat $3 via USPS. $4 to Canada.
The secure Paypal shopping cart accepts most major credit cards.
Additional discounts, at checkout, for two or three organizers (limit 3).
fig8 cord organizers

$10 each

hanging cord clips- comes attached to fig8, and allows you to snap the organizer onto a backpack clip or slotted ring

$2 each
Your email address will not be shared with third parties, nor will you receive additional promotional email from fig8.

* (Unfortunately, internationally shipping costs more than the product. But, contact us if you are interested in obtaining large quantities for international resale).